PennDel Youth Event
June 25th - June 29th, 2018
$0 - $275
PENNDELYOUTH CAMP IS A POWERFUL, ONE WEEK, SUMMER CAMP FOR STUDENTS IN GRADES 6-12 THAT IS HOSTED AT THE BONGIORNO CONFERENCE CENTER IN CARLISLE, PA. THE WEEK IS PACKED FULL OF FUN GAMES AND ACTIVITIES AS WELL AS POWERFUL WORSHIP SERVICES WHERE STUDENTS ARE CHALLENGED AND INSPIRED. CAMP IS ONE OF THE BEST WAYS FOR A STUDENT TO SPEND A WEEK OF THEIR SUMMER! WE CAN'T WAIT TO SEE YOU AT CAMP THIS SUMMER!
---
Early Bird Price: $225 (till June 7th)
Total Cost: $275 (After June 8th)
Deposit and Payment Schedule:
TODAY - camp registrations are due NOW along with a $75.00 deposit.
6/18/18 - $200.00 final payment due
**All registrations are due along with deposit by SUNDAY JUNE 3, 2018
Please note:
If you register after June 3rd you are subject to a rate increase.
Water Baptism - Sunday, July 1st - 10am - ONE SERVICE ONLY
July 1st, 2018
Water Baptism - B'ville Campus 10am Service
What is Water Baptism?
It is the practice of immersing a professing believer in Jesus fully into water and then raising them back out. Essentially, baptism is a rite of identification.
The word "Baptism" literally means to be immersed. Covered. Buried. It was a term used in the first century for immersing a garment first into bleach and then into dye, both cleansing and changing the color of the cloth. (Note its similarity to baptism's cleansing of sin and becoming a new person through Christ.)
Baptism is a public testimony of our identification with the Lord Jesus as a follower of His. It is a picture representing a profound spiritual truth - that we have received forgiveness, repented and been cleansed of sin. Baptism itself has no power to cleanse or save from sin. It represents an outward symbol to go with the inward change that has already occurred.
Romans 6:4 - For we died and were buried with Christ by baptism. And just as Christ was raised from the dead by the glorious power of the Father, now we also may live new lives.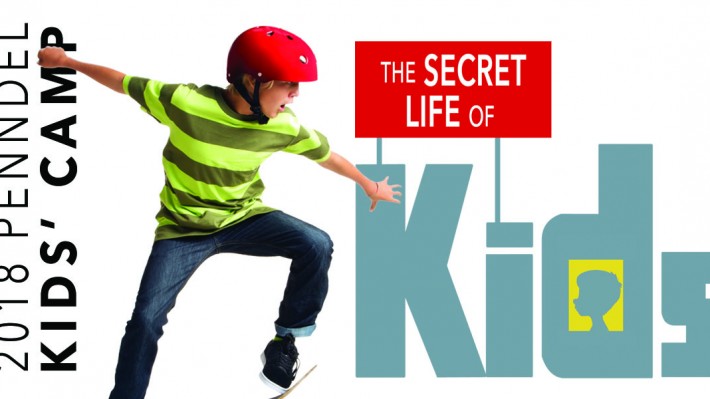 Kids' Camp "The Secret Life of Kids"
July 9th - July 13th, 2018
$0 - $214
2018 Penndel Kids' Camp featuring the theme "The Secret Life of Kids." The Bongiorno Conference Center boasts the perfect atmosphere for a fabulous kids' camp, with an amazing pool and water slide, comfy lodgings, great meals, and a fun snack bar/gift shop. On top of all of this, the site is designed for group worship and lesson times, with specific areas for small group breakout times. Pastors Josh and Kelly Simpson are the main speakers, too! It will be an amazing week.
Child discount codes:
If you are sending two children to camp, use 2NDCHILD.
If you are sending three children to camp, use 3RDCHILD.
If you are sending a sibling to youth camp, use YOUTHSIBLING.
Prompts for these codes will be found later in the form, so note which you are eligible for. For some reason I can't list the codes on the page where you use them!
Step One: Meet the Staff
July 15th - August 19th, 2018
Join us on 3rd Sunday of each month following either service. (10:15 or 12:15) This is a meet and greet geared for you to get to know some of the Pastoral Staff and Leadership here at Morning Star and also for us to meet you! If you plan to attend please register here!
Ladies Beach Day
July 30th, 2018
$20
Join us for a relaxing day at the beach. We will travel to Ocean City NJ leaving the church parking lot at 9am and returning at 9pm. Cost is $20 per person and includes, the van ride, gas, a few snacks, beach tag & parking.
We park on the 13th Street Lot. If you'd like to use their bathhouse that day it is available for a nominal fee.
Guatemala Summer 2018 Trip
August 11th - August 18th, 2018
Missions Philosophy and Vision:
God's love and offer of redemption through His Son, Jesus Christ, extents to all people (Rev 5:9). It is His desire that none should perish (2 Peter 3:9). Christians everywhere are called by God to take the light of Jesus Christ into all the world, making disciples, baptizing them, and teaching them to obey everything Jesus has command us (Matt 28:19-20). In obedience to God, we commit ourselves to pursuing the fulfillment of this Great Commission. To this end, we are offering short-term missions trip to Guatemala, August 11th-18th. The sole purpose of this trip is to bring hope to the lost and broken through preaching the gospel and healing the sick through signs, wonders and miracles (Matthew 10:8; Hebrews 2:4).
If you are interested in attending this short term missions trip please complete the registration form and submit your deposit.
This trip is OPEN to all ages, but if you are under 14 years of age, you MUST be accompanied by a parent or guardian.
Cost: $1700
Down payment of $ 200 due with Application by February 28, 2018
Payment Schedule: March 30 - $300 / April 30 $300 / May 30 - $300 / June 30 - $300 / July 30 - $300
Payment can be made ONLINE here: Guatemala August-2018Mission Trip
Pastor Taylor Boswell, our Student Ministries Pastor is leading this trip.
Night to Shine BASKET RAFFLE TICKETS
September 21st, 2018
$25 - $250
*Baskets of $50 or more
*Bring your own food - lite snacks will be available to purchase
*Reserve a table with 10 people (table holds 12 max)
*Included in the $25 ticket price
*25 tickets for basket raffle
*1 door prize ticket
*You can purchase more:
*Raffle tickets, grand-prize tickets and 50/50 drawing tickets that night!
(No children under the age of 10 permitted) (No alcohol permitted on premises)
If you would like to purchase a whole table...scroll to the bottom Attendee Types!
Night to Shine BASKET RAFFLE SPONSORS
September 21st, 2018
$50 - $500
Your business or organization can choose to be a partner at four levels of sponsorship: Platinum Sponsor $500, Gold Sponsor $250, Silver Sponsor $100 & Bronze Sponsor $50. Each level of sponsorship will be mentioned in our program on the night of the basket raffle. Platinum = full page ad, Gold = 1/2 page ad, Silver = 1/4 page ad & Bronze = Business Card sized ad.
Night to Shine BASKET RAFFLE BASKET DONATIONS
September 21st, 2018
CLICK ON REGISTRATION TO DONATE A BASKET!
This is NOT a registration for the event.
All baskets should value $50 or more.
We are accepting baskets of all kinds: *Grillers delight basket *Baby Baskets *"Night Out" Baskets * A Day at the Spa Baskets....etc
The possibilities are endless! Be creative!
Donated baskets need to be at the church by Sunday, Sept 9th.
Email us with questions at night2shine@mstar.org
Israel Tour - November 5-14, 2018
November 5th - November 14th, 2018
$1,005
We are traveling to Israel on November 5 for a 10 Day Journey of Faith. To learn more about the trip and to register for the LAND portion, go this this link.
Center for Holy Studies
NOTE: The Registration and payment for the "land portion" of the trip is done directly with the Center for Holy Land Studies.
However, for the Airline flight, we are opting to leave out of Newark, rather than JFK, so please register here for that portion. A downpayment of $200 is required to hold your ticket.
We have 22 available seats.